Coming Soon
Federal Way has lots of great things coming down the pipeline.
Tool Library
From southkingtools.org
The South King Tool Library provides equal access to tools and training in order to help maintain neighborhoods, build community and reduce unnecessary consumption. We welcome new members, volunteers and donations.
A tool library operates much like a traditional library, allowing borrowers to check out tools and equipment to care for their homes, yards, gardens and more.
We provide instruction on proper tool use, host repair cafes to help you fix things and work together to build better lives in South King County.
There are lots of ways to stay up to date with what's happening:
Day Center
From the Federal Way Mirror
The day shelter will provide a shower, hot meal, Internet access and mailing address to people who are homeless looking to make a better life for themselves. The 2,000-square-foot space near the Multi-Service Center will also be a resource for other services that help those in need.
"We can tell a story about what can happen when members of various faith traditions, community organizations, human service providers, government institutions and elected leaders listen to each other, work together and make a difference in this world we share," Kubal-Komoto added.
The coalition is made up of community members from Sound Alliance, Catholic Community Services, Multi-Service Center, City Vision, Valley Cities, HealthPoint, King County Public Health, the Federal Way Community Caregiving Network and several churches.
The day shelter will be a three-year pilot project that could lead to a permanent day shelter in Federal Way and act as a model for the rest of South King County based on the information they collect.
Stay up-to-date with all that's happening with the Day Center:
Performing Arts and Events Center
From the City of Federal Way's Website
Overview
The City of Federal Way hosted the ground breaking for the Performing Arts & Event Center (PAEC) in October 2015 and will celebrate its grand opening summer 2017. This spectacular one-of-a-kind, 44,000 sq, foot center is currently under construction at the corner of S. 316th St & Pete von Reichbauer Way S in downtown Federal Way.
Events
The Performing Arts & Event Center is a year round conference and meeting facility conveniently located just 20 minutes from SeaTac airport. This beautiful south King County location is perfect for business, educational, and private events. This is an ideal event venue for full-service trade shows, corporate trainings, conventions, events, meetings, and banquets.
Performances
The 716 seat, two tiered theatre will accommodate theatrical, musical, dance, and spoken word performances from the region and around the world. Imagine a world class performing arts center that is full of live performances every weekend.
Keep up with all the PAEC news
---
Recent Openings
There have also been some recent new additions to the city. Be sure to check them out!
Town Square Park
31600 Pete Von Reichbauer Way S
Federal Way, WA 98003
The park had it's grand re-opening on July 9. The new park has a walking trail, splash park and great play structures for kids.

From the Federal Way Mirror
The following events are scheduled for Town Square Park:
Movies in the Park will showcase a free viewing of "Pan" at 9 p.m. on July 30 and "Inside Out" at 8 p.m. on Aug. 27.
Two Summer Sounds Concert Series events will be held in August: The Marlin James Band will perform Aug. 17 and Sin City will be featured Aug. 24.
The Tree Lighting ceremony will take place from 4-5 p.m. on Dec. 3 and is free to the public. Hot chocolate, Santa and real reindeer will also make an appearance at the Tree Lighting.
Check out the Grand Opening on Federal Way's YouTube channel
Legendary Donuts
32085 Pacific Hwy S
Federal Way, WA 98003
Legendary Donuts opened up on July 13 in Celebration Center.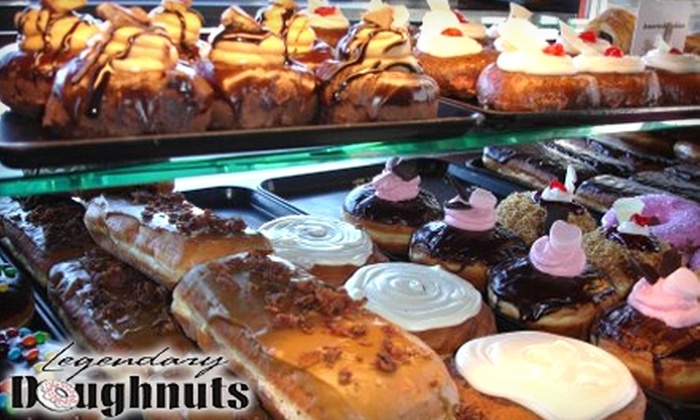 From the Federal Way Mirror
This will be the Pattens' fourth shop – locations are already open in Auburn, Tacoma and Covington, with a fifth planned for Frederickson – a rapid growth since the business was founded six years ago in Auburn. Word-of-mouth has helped spread buzz as Patten expanded, but she credited her workers with her success.
Having doughnuts like the "Bourbon Street," described as an old-fashioned cake doughnut topped with chocolate, peanuts and caramel, or the Scarlet O'Hara – a red velvet cake doughnut with cream cheese frosting and a dark chocolate shaving – probably doesn't hurt either.